Our Mission
Build a strong community through the sport of curling. We provide a welcoming environment for athletes of all ages and skill levels to learn about one of the fastest growing sports in the United States of America.
Our Journey
Windy City Curling Incorporated
Windy City Curling began as a paper club, meaning we didn't have a physical home. We participated in different bonspiels just to get our name out into the community.
The Beginning
We began contacting ice arenas in the western suburbs until finally finding one that was interested in working with us, Rocket Ice Arena.
First League Night
A Learn to Curl and our first league night was held at Rocket Ice Arena in Romeoville starting at 9:00 pm on Thrusday nights.
U.S. Arena Nationals
The first Windy City men's team competed at U.S. Arena Nationals.
501(c)3 Status
Our non-profit status was assigned retroactive to our incorporation date.
1st Club Championship
Team Richardson won the first Open Club Championship.
Goodbye Rocket Ice
Along with crowning Team Richardson as the first Club Champions, it was also the last game played at Rocket Ice Arena. It became obvious that growth potential was limited at Rocket Ice with the late Thursday night time slot.
U.S. Arena Nationals
The first Windy City women's team competed at U.S. Arena Nationals.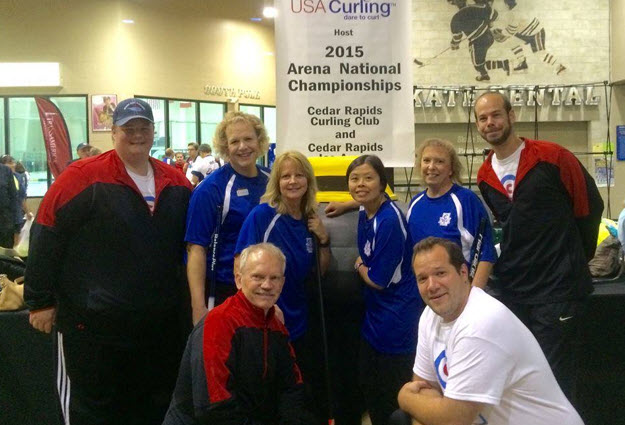 First League at Seven Bridges
We began curling at Seven Bridges in Woodridge, IL with leagues on Sunday nights at 7:00 pm.
1st WC3 Open Bonspiel
Our first bonspiel was won by Team Rittgers of Chicago Curling Club.
2nd WC3 Open Bonspiel
Our second WC3 Open Bonspiel had a repeat champion, Team Rittgers from Chicago Curling Club.
A club Without a Home
Seven Bridges Ice Arena ended our contract and we were relegated to a 10 x 10 storage unit.
Return to Seven Bridges
Seven Bridges renewed our contract when they could not fill the time slot but we needed to draw our houses for a while.
A Dedicated Ice Proposal
Two members of the club approached the board with a proposal to take on the building and managing of a facility for the club.
3rd WC3 Open Bonspiel
For the first time, our the bonspiel was held on dedicated ice at Chicago Curling Club. We hosted 32 teams and it was won by Team Murphy of Chicago Curling Club.
The Ladies Win WC3 Club Championship
Our club proudly crowned our first all-female team as club champions.
4th WC3 Open Bonspiel
Second and last year hosting our bonspiel at Chicago Curling Club. We hosted 24 teams and again named a Chicago Curling Club champion. Someday we will win it.
Goodbye Seven Bridges
April 28th marks the last time Windy City Curling Club was an arena club.
First look of new building
The board got its first look at their future home.
Construction Begins
Members volunteered to donate "Sweat Equity!" Once demo was completed, members helped with painting, carpet laying, locker installation and other building tasks.
Emergency Work
During our 4th WC3 Open Bonspiel, we received word that 15,000 lbs. of equipment was being delivered and they didn't provide a method to offload it. Members, some playing in the spiel left for a couple of hours to help move manually offload this equipment.
A New Home
Windy City Curling officially becomes a dedicated ice facility, and members deliver stones in our first league games in our new home.